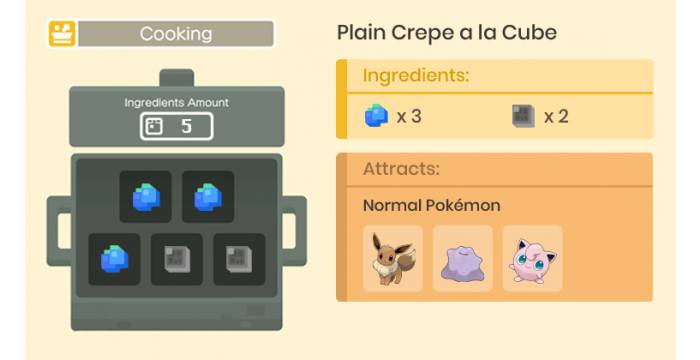 Looks like Normal-type Pokemon fall for sweets and gray stuff. These kind of ingredients create Plain Crepe à la Cube. Rattata, Eevee, Jigglypuff can be attracted to your base with this Pokemon Quest dish.
Pokemon Quest Description of the recipe
A lot of sweet things and a few gray. Favorite food of Normal-type Pokémon.
How to cook Plain Crepe à la Cube. How to attract Normal-type Pokemon
Possible combinations of ingredients to create a recipe
Sets of Ingredients

Number of Precious Ingredients

Quality

Pokemon Attracted

3 Bluk Berries and 2 Fossils

0

Normal

Meowth, Pidgey, Rattata, Spearow

2 Bluk Berries and 2 Fossils and 1 Honey

1

Good

Doduo, Lickitung, Snorlax

2 Honeys and 1 Bluk Berry and 2 Balm Mushrooms

1 Bluk Berry and 1 Fossil and 2 Honeys and 1 Balm Mushroom

2 Fossils and 3 Honeys

3

Very Good

Jigglypuff, Porygon, Tauros

3 Honeys and 2 Balm Mushrooms

5

Special

Chansey, Ditto, Eevee, Farfetch'd, Kangaskhan
Try out these combinations and experiment with cooking pots, as higher-quality pot attracts higher-level Pokemon. Iron Pot is the basic one. It requires 3 of each ingredient in the set. Bronze Pot needs 10 of each ingredient and it'll help you attract Pokemons of Level 20 and higher. Silver Pot requires 15 of each ingredient. You'll be able to attract Pokemons of Level 40 and higher to your camp with this one. Finally, Gold Pot requires 20 of each ingredient, and dishes crafted in this cooking pot lure Pokemons of Level 70 and higher.
Quality

Ingredients

Cooking Time

Iron Pot

Bronze Pot

Silver

Gold

Normal

0 Precious Ingredients

2 battles

2 battles

3 battles

4 battles

Good

1 or 2 Precious Ingredients

4 battles

4 battles

5 battles

6 battles

Very Good

3 or 4 Precious Ingredients

5 battles

5 battles

6 battles

7 battles

Special

5 Precious Ingredients

6 battles

6 battles

7 battles

8 battles

Craft a recipe and find out how to attract Meowth, how to attract Pidgey, how to attract Rattata, how to attract Spearow, how to attract Doduo, how to attract Lickitung, how to attract Snorlax, how to attract Jigglypuff, how to attract Porygon, how to attract Tauros, how to attract Chansey, how to attract Ditto, how to attract Eevee, how to attract Farfetch'd, how to attract Kangaskhan
Best Pokemons to attract with recipe