1-1: First Steppe - Tactical Guide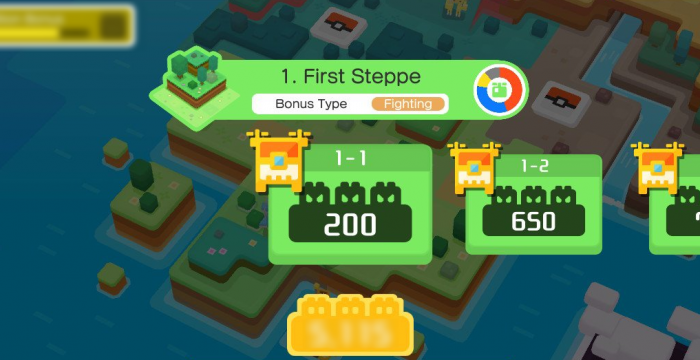 Level boss
Meowth
Type:

Normal
hp
40
atk
45
Our Pokemon Quest leveling guide is here at your disposal.
You will start the game with the establishing a base camp on Tumblecube Island. Here, on Tumblecube island Pokemon have mysterious Power Charms, and your goal is to befriend and train Pokémon.
On the first level, you begin with one starter Pokemon which you choose from available five. First, you need to put all Power Stones which you find into a socket on a Power Charm to raise Pokemon's HP or ATK.
After your Pokemon gets stronger, you can start exploring the island. Begin an island expedition from the dungeon icon. Note, that the goal of the game is to find a precious loot that lies hidden on the island as you progress on your expeditions.
During level 1-1, you should clear three waves. When you meet wild Pokemon, use Tackle and Whirlpool buttons to beat off their attacks. When it comes to attacking it seems to be two kinds of Pokemon: those who attack from up close and those who attack from far away. From this point, there are Close-Range and Long-Range Pokemon.
The First Steppe 1 - 1 ends when you catch strong-looking Pokemon Meowth and take it to your team.
Tip 1 from Pokemon Quest leveling guide: Try attaching as much Power Stones as you can which you find on your expedition to your Pokemon.
Tip 2 from Pokemon Quest leveling guide: With the Everstone button, you can give a Pokemon an Everstone that will stop it from evolving.
Best Pokemons with Type Bonus